Hawks Go Down to the Wire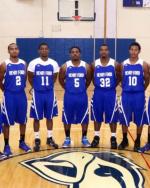 Photo courtesy of Hawks Athletics
After a slow start, the Henry Ford men's basketball team got their first win of the regular season bringing their record to 1-4 heading into the Thanksgiving break. The 98-93 win came at home against non-conference opponent Rochester College.
With only six players dressed to play, the Hawks knew they were in for a difficult challenge, but that didn't scare them off. They came out and showed how gritty of a team they can be, playing with more energy and heart the entire game. Even though Rochester had eleven players dressed, the Hawks made it seem like it was the other way around. Leading the way for HFC were freshmen KeShaun Martin who had a game high 28 points and Nick Towianski with 27. Another strong showing came from Diangelo Carlton who finished with a double-double, 14 points and 11 rebounds. With players constantly subbing in and out to try to stay fresh, and a couple players needing attention from the trainer throughout the game, there were some big minutes needed to be played and the team came through. This was the first of seven home games in a row.
Head coach Tony Woods will try to lead this entire group of freshmen to success over the rest of the season, and they need to build on this win with plenty of games still to be played. The Hawks will play Jackson College for its 7th home game on December 12 at 3pm. All home games are played in the HFC Memorial Gym.
The Hawks women's basketball team lost a nail-biter in their home opener against Grand Rapids Community College to the final score of 69-65. Sophomores Keyanna Austin and Ariel Walker both had big games. Walker ended with a double-double grabbing 20 rebounds and adding on 15 points. Austin finished with a team-high 19 points in the defeat. The back and forth style of the game brought excitement and had everyone on the edge of their seat, but HFC couldn't quite contain Courtney Zenner of GRCC, who had a game-high 22 points. The loss brought the Hawks women's team record to 0-4, so they will look to depend on their sophomore leadership to get their season back on track. The Hawks women's basketball team will host the annual home Hawks Classic on December 18 at 8pm, and on December 19 at 3 p.m.
From left to right: Aaron Howard, Nick Towianski, Chris Mosley, KeShaun Martin, Marcus Wilson, Robert Day, Ricky Hudgens, Diangelo Carlton, Zenas Dixon
Share it now!