Freedom to be Safe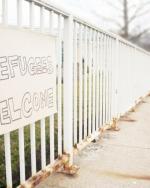 Past busy casinos and beyond forgotten alleys is the Freedom House, precariously located on Lafayette Blvd in Detroit and towered by the nearby Saint Anne's Church, the second oldest Roman Catholic parish in America, built in 1701. Upon arrival on a chilly day, a passerby will notice open windows, dinner scents, and the warmth of old, iron-like radiators. There was a pleasant aura from this house, the right kind of feeling for a reporter from The Mirror News who wanted to learn more about this issue, free from the media buzz and political rhetoric.
Freedom House does not receive unwarranted persons knocking on its door. Given the rhetoric of some politicians and newscasts of recent, many may think of asylum seekers and refugees as only Syrian or someone from a war-torn country. In reality the Freedom House has sheltered people of every race and nationality to protect them from many different forms of persecution based on gender, race, religion, nationality, and sexual orientation. Founded in 1983, the Freedom House is the only location of its kind to provide extensive services to people seeking asylum in the U.S. TJ Rogers, program manager, suggests America is unique in its appeal for asylum seekers:
"I took this from former [Michigan] Representative, Rashida Tlaib," he smiled, "who said that out of all the countries in the world, almost 200 of them, we are the only one with the American dream. Why is that? There is no French dream, there's no Afghani dream, just the American dream."
The Freedom House accepts applicants referred by the United States Citizenship and Immigration Services. Their paperwork by then is very carefully screened by the FBI and Homeland Security, before being assigned an Alien number. From there Freedom House staff will begin to complete their asylum paperwork before sending it back to the US government to apply for asylum. The maximum time each applicant can stay in the Freedom House is 2 years, but on average, seekers stay about a year and a half. In that time they are assisted with mental, financial, medical and social services to prepare them to work toward the American dream.
By the end of their time at the Freedom House, their guarantees include employment, check ins, and basic understanding of everyday life. However, being at Freedom House does not guarantee asylum.
"It's out of our hands, we can't guarantee asylum," TJ goes on to explain. "We do our best making them self sufficient so that they are stable to hold a job, a mortgage and their mental health."
There's a high level of respect when one enters the Freedom House, and a strict confidentiality that is held before the doors of the common room. Many fear for relatives back home. Many are used to authorities questioning their immigration status. However, once you pass the common room, you are met with warm hospitality. There's an office to the side as soon as you walk into the door where residents will kindly escort you in if you come with any questions.
Before I left Freedom House, TJ had some advice for me to bring back to HFC's campus community:
"There is a world beyond campus," he states. "It's beyond college, beyond state even. Read the definition of an asylum seeker. They are the movers and shakers of the society, our activists. They ARE our American values because we were built off asylum seekers."
Photo by Hector Ochoa