Finding Nancy Owen Nelson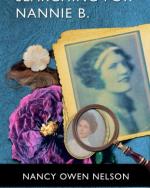 Nancy Owen Nelson is an adjunct professor at Henry Ford College as well as an author. For 23 years, Nelson worked at HFC as a full-time professor, but left for Arizona with her husband, and eventually returned to the college as an adjunct. Nelson also contributes to a local organization called Springfed Arts, a metro-Detroit group that stimulates art and encourages music in the community. About her work in the program, she talked about conducting a memoir-writing workshop tri-annually for the past few years. She recently wrote a book called Searching for Nannie B.
Nelson's life has been filled with peculiarities and she has many interesting experiences. On her upbringing, she says, "I am an Army brat, which means that I spent most of the first 14 years of life moving from place to place every two or three years. That affects a person deeply though not necessarily negatively. One learns to adapt, to meet new people easily. I suppose this lifestyle contributed to my desire to be a teacher and my ability to leave the south after graduate school in Alabama." Despite being able to adapt and meet new people, Nelson's memoir focuses on a woman she has never even met: her own grandmother, who died an hour after giving birth to her mother.
The book is described by Nelson as "intimate," and says, "… it holds a truth for many people — we want to understand where we came from, not just by stories from others, but by some direct experience such as traveling to places where ancestors lived, loved, and worked. Writing this book helped me, and I hope will help others, to realize that such a search can provide truth and understanding about oneself. I hope those who read Searching for Nannie B will think about what their forebears gave to them, both the sad and the joyful. As I say in the book, when I am down, 'my ancestors are always there. They are not going anywhere.'" In finding this truth and understanding, Nelson also felt a stronger connection to the grandmother she never met.
While writing a memoir about a grandmother who died during childbirth is an interesting proposition, Nelson still faced challenges during her writing. At the forefront of this, she asserted that her biggest hill to climb "included the question many writers ask: Who will read this? Why would anyone care about what I write?" She explained that these questions were reiterated throughout the creative process, but she ultimately put them to rest through hard work, research, and a strong desire to find more meaning for the woman, who, according to her, had her own name misspelled on her headstone. That woman is, of course, Nannie B.
There was quite a bit of leg work in what turned out to be an arduous but rewarding process. Nelson made a point of saying, "my challenge was to find out about a woman whom no one spoke about. Additionally, there was no death certificate or obituary for Nannie B Russell Chandler. I had only a marriage certificate and the knowledge that my grandmother was buried somewhere in north Alabama in Madison County. I researched on Ancestry.com, with the help of a local genealogist found my grandmother's grave, and travelled to Alabama three summers in a row." When asked what intrinsic forces drove her to carry out this task, Nelson replied,"I wanted to make her visible and real by telling readers about her." Whilst writing this book, Nelson was able to discover more about her grandmother's identity and create a personal connection to the woman that she and her mother always missed, even though they'd never met. Along the way, she provided readers with a chance to learn a little about the importance of finding oneself and about how family and ancestors play a larger role than you'd expect in making you who you are.