Emergency Alert Puts Campus on Notice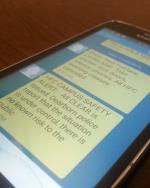 If you are a current student, you or someone you know likely received several text messages, emails, and phone calls from HFC's Campus Safety Alert system on the evening of November 9. For many of us this was the first time we were notified of something other than a test of the emergency alert system. The messages gave the basics of the scene: shots had been fired at Fairlane Mall. The suspects may still have been in the area. HFC needed to shelter students and wait for the all clear. Evening classes were canceled.
What we know now are the rest of the details related to that incident. Click On Detroit reported the Wayne County Prosecutor's office's recounting of the events. They state a man was robbed at gunpoint just outside a jewelry store inside Fairlane Mall. The suspect took a pair of designer eyeglasses from another man, who was licensed to carry a concealed weapon. There was a dispute and shots were fired. An arrest has been made.
This incident, last month's shooting at Umpqua Community College, and the recent attacks in Beirut and Paris surely prompted the message that was sent out on the 17th to the student body from President Stan Jensen. In the letter, President Jensen speaks to our safety. His comments echo a sentiment that needs to be embraced by everyone at HFC. It is critical that we all take an active role in our safety.
There are many resources to aid in this. First, I would encourage everyone to go into your email and review President Jensen's letter. The letter outlines the college's efforts to make HFC a safe place, but also contains several links to HFC's website that contain information to help us be a more informed student body.
Second, you should sign up for HFC's alerts. It is possible that you may already be enrolled, but it just takes a moment to confirm and make sure the college has your current contact information. You can visit https://its.hfcc.edu/about/alerts to learn more.
Lastly, we need to be aware of our surroundings and to take care of each other. You should program Campus Safety's 24 Hour dispatch line into your cell phone, just in case (313-845-9630). Be mindful of suspicious activity. Encourage others to talk about what they've seen and heard on and around campus. Our campus is a community. It takes a lot of effort to ensure the safety of that community, but we can all participate in it. The phrase "see something, say something" isn't a cliché; it's what is required to keep us safe.
HFC Emergency Alert sends text, email, and voice messages.
Share it now!