Drumming to a Colorful Beat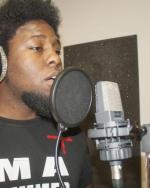 Reggie Williams is a Music major at Henry Ford College. Reggie's musical interests include drums, choir, and base guitar. As one of HFC's many musicians, Reggie is adamantly involved in the music program. Using music as a form of catharsis, he is living proof you can enjoy your work.
Chloe: What got you interested in music?
Reggie: I didn't really get into it into it until high school, Dr. Robishaw in ninth grade. I joined the the drum line…. And then my director at the time, Richard McCaw, was a trombone player, one of the best in the world. I was on drum line for a while and then one semester he was like, you go on tuba … I hate Tuba, I'm not a horn player…. For about a year I [had to play] tuba so I figured since I'm forced to be here why not look up stuff. So I ended up looking up a bunch of music. Not just R&B and gospel type stuff like I'm used to but Jazz, like Charles Mingus and Duke Ellington and all those other sick brothers…. I love a lot of things about music, how it makes you feel, no matter what you're listening to…. People look at me weird when I listen to music, 'cause I see like colors … don't look at me like that; I'm serious. [He laughs.] Seriously though I'll hear a melody and [suddenly] I'll start like seeing colors. I realized when I went here, to Henry Ford when Kevin [Dewey] taught me about major and minor chords, that with major I see colors like bright red, orange, and yellow. But with minor I'll see colors like purple, green, dark blue, and violet.
C: In what ways do you improve yourself as a musician?
R: Practice. For drumming I do a lot of drumming stretches and exercises. I'll start out slow, then do it faster. Not just to control my speed in how I play but to practice muscle memory…. A lot of people taught me that you can take what someone teaches you, master it, then make it your own. And that's what I try to do. For singing, I listen to people. I get inspired listening to all musicians.
C: What choirs and/or bands have you been a part of?
R: High school drumline, and then here I've been a part of Studio 110, Blue Fusion (a vocal jazz ensemble), Henry Ford Chorus, Rick Goward's Symphony Band, and for the first time ... I'm part of Rick Goward's Henry Ford Big Band. I'm the drummer for the long hall and it's a pretty interesting experience. I've played alongside them for different concerts and such but it's different than actually being in the Big Band. When you're in the band, rehearsal is awesome. I love Rick Goward. I love the fact that he's strict and he'll [let you know] when there's something you're not doing right. I love that; it shows that he's passionate.
C: Other than famous musicians, who inspires you?
R: Out of all my directors, Rick Goward and Kevin Dewey inspire me the most. Rick Goward because he shows discipline; he's passionate about what he does and he's a good player. And Kevin cause, well you know Kevin, he is the freaking man. If he's not in choir it's just not going to be a good day. It's just not the same. When you go to a concert and watch him play something he's really enjoying, he's not afraid to have a good time for real. Kevin is just a very fun person to watch.
C: So where do you plan on going with your musical career?
R: One thing I plan on doing is traveling. I want to get my music degree in Jazz Studies and Music Performance. I'd also like to work in a studio with a lot of different types of artists.
C: I know you play the drums, sing and are learning base but do you have a favorite? What gets you in the zone the most?
R: Oh drums for sure. When I'm drumming it's like I forget everything that happens. I sit on that throne and it's like all that badness is gone by the time I start playing.