A Christmas Story HFC-style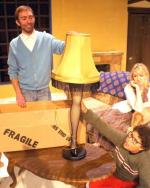 Photos courtesy of HFC Theater program
The theater program at Henry Ford College put on a live production of the classic film, A Christmas Story, which ended its run this past weekend. The play was adapted from Philip Grecian's stage adaptation of the widely known movie written by Jean Shephard, Leigh Brown, and Bob Clark. The stage production is directed by Judith Fletcher who works closely with Dr. George Popovich and many others in HFC's theater program to make it unique to HFC. The student cast consisted primarily of current HFC students and others who have worked in various productions at the college before.
Dr. George Popovich is an HFC professor and is also the artistic director for the Theater Arts program here. He expresses that this play offers "a glimpse into another time in American culture. A time perhaps when things were simpler and choices fewer. I grew up in a house and neighborhood very similar to the one depicted in the play, and my father was not unlike the 'Old Man' depicted in the play. For those who are unfamiliar with the cultural history of America, this is a great introduction." The wardrobe, props, accents, and overall feel of the play seem to support Dr. Popovich's statement. The stage is consumed by a house that looks as if it has been pulled straight out of the 1940s; there is a rustic fireplace, old furniture, iron caste ovens, and a simple, wooden table. "Our set was designed by professional set designer Daniel C. Walker, and it's a beauty," declares Dr. Popovich. The characters garb reflected a time long past. Simple robes, close-fitting cardigans, tan leather jackets, and fur-skin hats pulled the audience into, as Dr. Popovich states, a simpler era.
The play was narrated by either Eric Vega or Christian Plonka, depending on the night of the performance. As opposed to the movie, where the narrator is only heard, the play gives audiences the chance to see the narrator: Ralphie as an adult. Much like the young Ralphie, the older Ralphie still looks, acts, and sounds innocent. His cheeks are rosy and he stands relaxed but with hands clasped together while speaking to the audience. His voice is high just like young Ralph which helps to sell an air of innocence and formality that is often associated with the 1940s.
On the night I attended, the audience for this play included a variety of people, ranging from young to old. Every person looked unique from each other. Couples, friends, and families all laughed, cheered, jeered, and clapped throughout the play. And though running gags were formed as the play progressed, like when the old man would become frustrated and shout nonsensical phrases mimicking swear words, the audience laughed just as loud as they did the first time. The play was a fun and engaging take on a familiar classic.
Actors Matt Van Houten, Brigid Driscoll, and Blues Higgerns
Share it now!