Flower House: The Blooming of Hope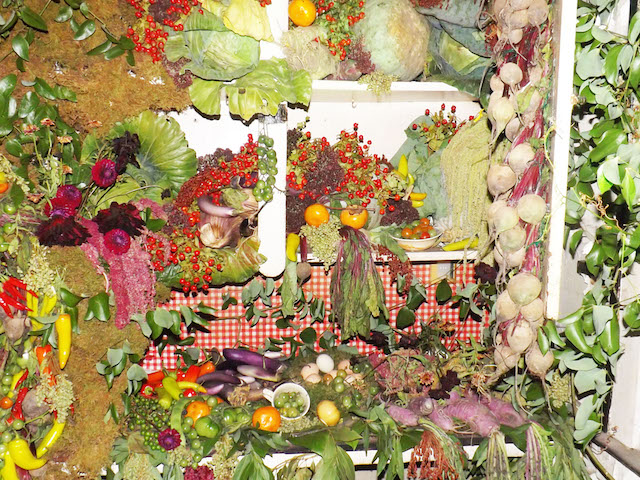 In Detroit, the decay of the urban landscape is nothing new. Entire neighborhoods are reduced to mere ghosts of what they were in their heyday. That is our reality. Nature is reclaiming what was once its own, with ivy vines covering entire sides of abandoned houses and moss reaching inside buildings to line the floors with fantasy-like carpet. With so many buildings falling apart, a question sneaks into the mind: should we allow nature to reclaim these symbols of our failures?
In the case of the Flower House, the answer is yes. Creator Lisa Waud could see how beautiful the house once was but also saw its potential to be great again. Inspired by the fall-winter fashion show by Dior in 2012, Waud's goal was to invite florists from all over the country to create a floral art installation that would not only insight awe and wonder but also raise awareness about the issue of blight and urban decay in Detroit. She also hoped to bring attention to the sustainability of American-grown flowers and American flower farms. On the weekend of October 16, she gave this once beautiful and cherished home one final chance to show people its beauty and send a powerful message.
No one would guess from the house's disheveled and derelict exterior that it is filled with such beautiful art. Adorned with thousands of flowers, the house on Dequindre in the neighborhood of Hamtramck evoked a feeling of wonder in everyone who stepped inside. Art installations so grand they are difficult to describe covered nearly every space. It was as if nature had come back to this house to tell us all a story of its grandeur and to transform it into something worth-while once again. The house seemed to be a living and breathing entity. Each room was a separate art piece and was bursting with laughter and conversation; all commending the tremendous efforts of the artists who were responsible for it. Strolling through rooms with vines draped across the ceiling, admirers could have been in a rainforest with the sound of trickling water adding to the ambiance of the amazing piece. The upstairs and downstairs kitchens were reminiscent of cornucopias, overflowing with vegetables and fruits. Even the closets were embellished with such intricate designs that it's hard to even imagine how they were installed.
The goal of the Flower House is to raise enough funds to demolish it responsibly and create an environmentally friendly flower farm in its place. The intent may also be to raise consciousness of people who visit this home by showing it reclaimed by nature and then tearing it down. Just like the plants inside, the house too will eventually come to an end. This shouldn't be the only thing people take away from their experience though. Whether you're looking at the Flower House or street art found throughout the city, it is evident that the rebirth of Detroit is upon us. Through the union of art and community, this great city will become great again, just like flowers bringing crowds to a once abandoned house.
Share it now!