Detroit's Techno Roots Live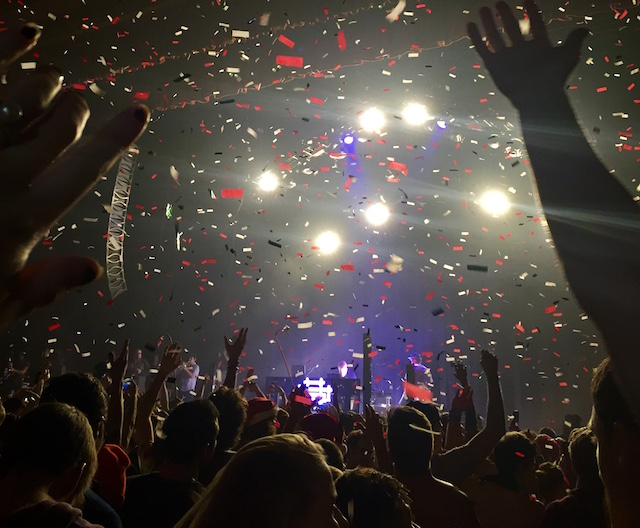 When hearing the term "electronic dance music," what is the first thing that comes to mind? For some, it may be the most popular DJs or electronic musicians of today, such as Bassnectar, Skrillex, Daft Punk, and Deadmau5. Others might think of nightclubs or raves with intense music, wild people, and tons of glow sticks and florescent lights. Most people probably don't think of the Motor City. What many people don't realize, though, is that the genre of electronic music, or techno, was invented right in our own backyard — in the city of Detroit. In the late 80s and early 90s, when the city was starting to work on changing its image, young Detroiters aspired to create positivity within the negative atmosphere. Musicians Juan Atkins, Kevin Saunderson, and Derrick May are three of them — the Belleville Three to be exact. These men, along with several others, created what is known as Detroit techno. The idea behind this invention was to create music that mimicked the industrial sound of Detroit — music that was unlike anything anybody had ever heard before. At the same time, these musicians wanted to create music that defined the city. The minimalistic, repetitive, futuristic sound combined with a machine-like atmosphere directly mirrored the spirit of the post-industrial city. These musicians strived to keep the soul of Detroit alive while also attempting to promote new, futuristic concepts by translating human ideas using synthesizing machinery. Detroit techno was not just another genre of music, but a reproduction of the city itself.
Over the years, the genre of Detroit techno has transformed into many different genres and sub-genres. From the soft, trance-like music of Tropical House, to Heavy Trap which is filled with intense rhythms and heavy bass-drops, Techno provides a variety of styles. Whether you choose to listen to techno, house, ambient, jungle, downtempo, dupstep, trap, or any others, it is nearly impossible not to move your body to the sensory-stimulating sounds. If you enjoy the softer side of Electronic Dance Music (EDM), artists such as Kygo or Klingande may strike your interest. If you are a fan of the heavy, more energized forms of EDM, Flosstradamus, Excision, and Big Gigantic might fit your style better. There are many local Detroit artists within the electronic genre, such as Gosh Pith, a cosmic trap duo, and Jamaican Queens, an electronic pop group. There are even artists that incorporate jazz and funk sounds into their music, like the popular Detroit producer, GRiZ.
The city of Detroit provides a variety of places and opportunities for people to get their fill of all types of electronic music. Aside from the Movement Festival held in the city every Memorial Day weekend, Detroit has many concert halls, cafes, bars, and other venues where DJs and musicians perform every week, including Majestic Cafe, Populux, The Fillmore, The Masonic Temple, and The Works Nightclub.
One of the Belleville Three, Kevin Saunderson, is even performing at The Annex in Detroit on November 25! Even if you are unsure about electronic music, there is no harm in checking out its different styles or the various venues where it can be found. You may even gain a new appreciation for the genre and the city itself!
For more information on electronic music events happening weekly, you can checkout http://www.detroittechnohouse.com.
Share it now!