Review of The Martian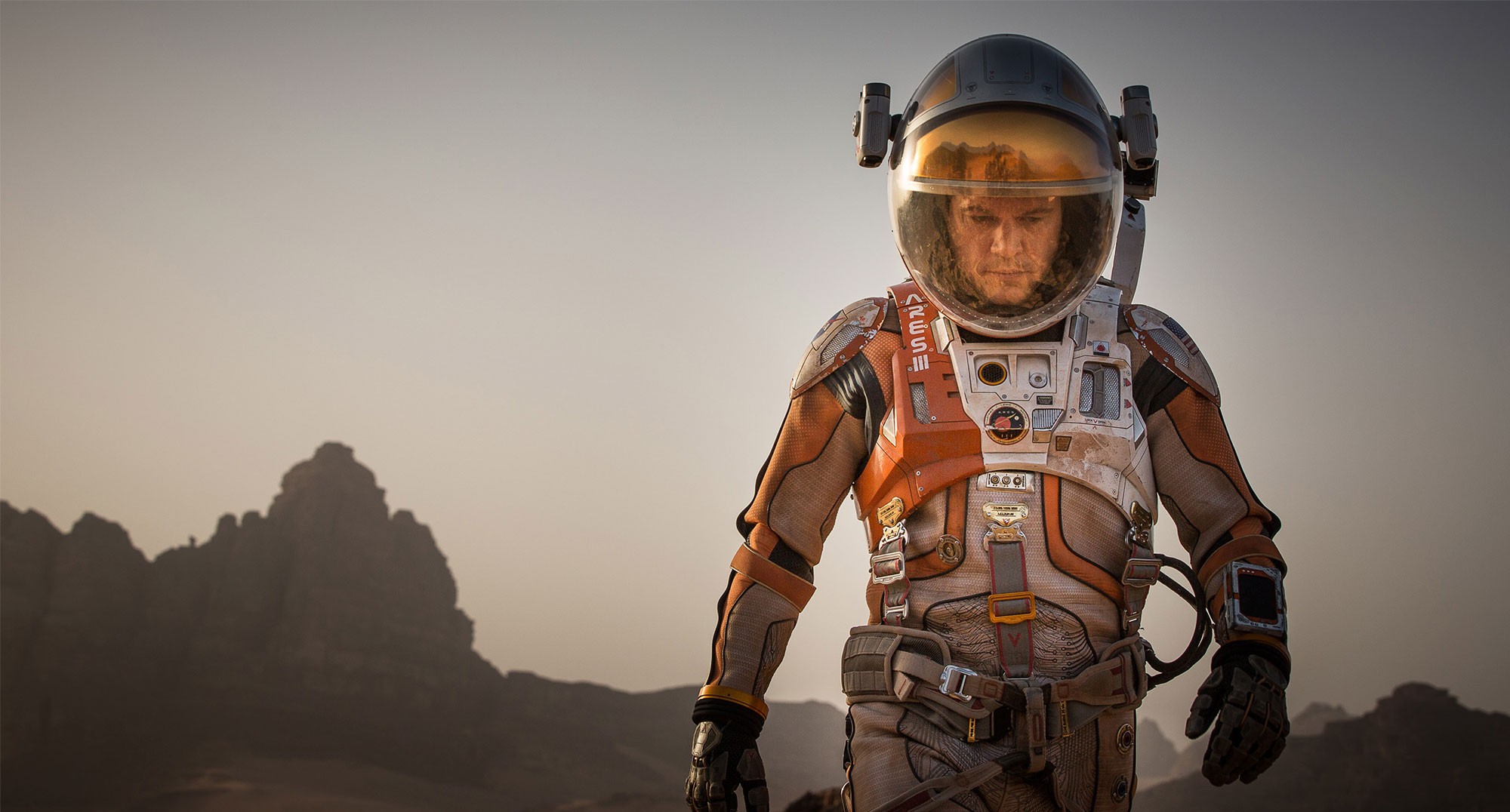 Courtesy of 20th Century Fox
Based on the book of the same name written by Andy Weir, The Martian is about human strength and courage in the face of staggering obstacles. In the film, Mark Watney (played by Matt Damon) finds himself alone and seriously injured on Mars after a catastrophic wind storm threatened to level the spacecraft that his crew was aboard. He's assumed to be dead when he is caught in the storm and his crew leaves to avoid succumbing to the storm themselves, not knowing that he has, in fact, survived. When Watney regains consciousness, he manages to find his way back into the space station where he performs a medical procedure on himself to fix a wound. Soon after, he realizes that another manned mission to Mars for his rescue would potentially take four years for NASA to carry out. He is prepared for the worst.
One of his first lines in the movie, "I'm not going to die here," effectively sets the tone as Watney uses his intelligence and expertise as a botanist to grow potatoes and otherwise sustain himself until a solution can be reached. Director Ridley Scott, a seasoned veteran of the sci-fi genre, did well with guiding Damon in this role. He was convincing and managed to keep the mood relatively light with his character's clever self-chatter and good morale despite the daunting situation he is forced to cope with.
If I had to say one good thing about this film, it's that it was intensely thought provoking. While watching it, I found myself thinking about life in philosophical terms which I seldom do. Existential themes such as our real purpose as a species, the precarious nature of life and death, and the importance of being part of a community are all brought into play. It's not uncommon for us to become so distracted by our technologies or professional lives that we lose touch with the essence of our being. Something about the dilemma Watney faces, isolated on Mars, provides a ground from which to perceive all the ways our lives here can distract us from what's actually important.
One drawback of the story, at least for me, was that it follows the life of only one single man. As the film continued, I found it increasingly difficult to stay interested in what was happening to Watney, especially considering that he was, for all intents and purposes, dead to the rest of humanity. With film, especially when the content is adapted from a novel, viewers are left to discern certain meanings and sub-themes from the visual sphere of experience alone. This required me to "switch gears" when the film focused on the more mundane aspects of Watney's life on Mars (such as fertilizing soil with his own feces) so that I could start thinking on another level. Contrast that with the literary form where much of the meaning and abstract elements are explicitly laid out by the author, and it's not hard to see where some ideas could be lost. I don't think this necessarily takes anything away from the film itself, but does make for a pretty awkward sequence, at least until the next plot turn.
Damon's performance in The Martian is impressive, the vital center of an ultimately great production. Many different elements come together in this sci-fi thriller to produce one of the best films of the year. Suspense, action, and a detective story are all at work here, making it a worthwhile choice to see with people of any group, save the under 13 crowd.