HFC Student Receives Five Film Awards On the Path To Finding Himself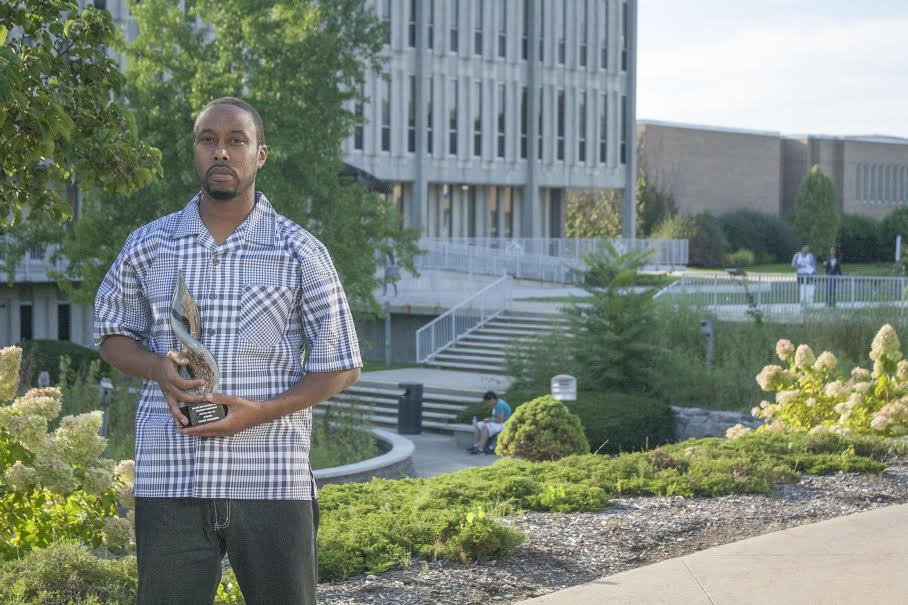 Shahid Mohammad holding one of his film awards | Photo by Hector Ochoa
Henry Ford College alumnus, Shahid Mohammad, has won five international film festival awards -- all for a play entitled "Angel's Night" that he wrote while he was a student in a Media Writing class with HFC's director of Telecommunications, Susan McGraw. Shahid submitted it to several film festival contests. It has garnered prestigious awards including a Royal Reel at the Canada International Film Festival, as well as Official Selections both nationally and internationally at the Las Vegas Black and the Peachtree Village International film festivals, and even the London Film Awards and Colortape International Film Festival in Australia.
The story follows the life of a middle aged fireman living in Detroit, who goes by the name of Ajani Louis. Through the course of the story, Ajani deals with the kidnapping of his brother and along the way, he deals with the residual anger he has about being brought up in the city of Detroit. Shahid calls the play a "dramedy", and says that although the play does deal with some heavier subjects, there is a component of comedy involved.
Before coming to Henry Ford, Mohammad tells me that although reading and writing were passions, they were not necessarily his strongest set of skills. He credits his ability to write award winning plays to the English courses he took at Henry Ford and his work with HFC's director of Theatre, George Popovich.
On his inspiration for the play, Mohammad quickly cites the late Tupac Shakur. When he was younger, Mohammad tells me there were a lot of ways in which he looked up to Tupac. "I admired his courage, I admired his charisma, his mother, his talent and his artistry," Mohammad says. While he was in high school, Mohammad wrote letters to Tupac in 1995, who at the time was incarcerated in New York, talking to him about Islam and anger management. "He pushed a concept of 'thug life' that wasn't beneficial to inner cities," Mohammad tells me. Tupac never answered any of the letters, but at around the same time, Mohammad tells me he lost three friends in gang related homicides. "When you're that young and you're going to funerals, just one after the other, it affects you," Mohammad says. This event drove him to hold classes at the Washtenaw County jail with older men, several of whom were twice his age.
The more Mohammad shares about his personal life, the clearer the relationship between him and the play becomes. Mohammad is currently a student at Wayne State University majoring in Urban Studies. His work on the play, which covers several important events in Detroit history like the Devil's Night arsons, helped him to understand what he wanted to study as well as what he is interested in. It's easy to see that Angel's Night picks up in Mohammad's life where his unanswered letters to Tupac left off. "I was just one person, and [Tupac] had all this influence. I felt that he could have had a big impact on kids [at that time]."
On what's next for the play, Mohammad says he wants to see it on the big screen. After several directors took a look at it, Mohammad decided he wanted to take on the task of directing himself. He's started a production company himself, X Ray Vision Film and Entertainment, and has already had actors like Tommy Ford show interest in acting in the movie. Mohammad has a website, x-rayvision.weebly.com, where tax deductible donations can be made.
Share it now!