From Vintage Films to National Awards: Meet the Director Behind Theatre's New Cutting Edge Technology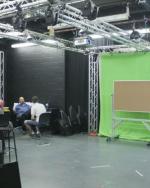 If you're ever in Henry Ford College's Virtual Theatricality Lab, you'll find yourself surrounded by a lot of intricate technology that costs much more than the average college education. Above head is an aluminum cage-like contraption with attached lighting fixtures, huge green screens cover the wall and expensive looking projectors are on racks. I try not to break anything as I look around. My guide through this technological journey is an absolutely intriguing man: the combination of his tall stature and the theatrical, sweeping gestures he makes as he speaks draw me in, and I am not surprised when he tells me he was an actor for many years. In fact, this man won the Mayor's Artist/Performer award in 1992. His name is George Popovich, and he is HFC's director of Theatre Arts.
Growing up in Ohio, Popovich says he was obsessed with science fiction films by the young age of five or six. "I was a geek," he admits easily, "Now it's cool to like superheroes and monsters." He drops names of classics like King Kong, Jason and the Argonauts, and Frankenstein as he recalls his first movies. The first movie he remembers seeing and pondering over the mechanics that might be involved in taking a movie effect and translating it to live theatre was The Lawnmower Man. Interestingly, it is Popovich's father who introduced him to the world of sci-fi films. He invokes fond memories of his father, who was a television repairman at the time, allowing Popovich to watch him work. It is instantly easy to envision a young Popovich surrounded by a mad laboratory of dismantled televisions, oscilloscopes and tools and pictures, making his first forays into the films that would eventually inspire him to build a theatre program focused on the subtle dance between stage acting and what essentially are effects usually reserved for screen movies.
The inside of Popovich's office is littered with movie paraphernalia, posters for The Invisible Man and War of the Worlds adorning the walls. On the shelves are masks and little figurines, and hanging from the ceilings are dinosaur skeleton cutouts originally used as props in an older production at the theatre. "I wanted to develop a technology where whatever you could do for a movie [in terms of effects], you could do for a live play," he tells me.
The idea, even at its most basic premise, was considered absurd not too long ago, and when Popovich first presented it to the Toronto International Film Festival, it didn't take off like he had hoped. I, myself, am surprised at the idea, but soon learn that the amalgam of the two seemingly old and new forms of entertainment might bring about a product the likes of which most play audiences have never experienced.
In one of the theatre's earlier uses of motion capture technology, the play The Skriker, engineered by Alan Contino, was a success in terms of visuals. Popovich knew the technology would strengthen the storytelling and visuals of the production due to the piece's already inherent inclination to a realistic naturalism with its use of forest scenery and demon-like characters. The play tells a story of a shape shifting faery attempting to steal babies from two teenaged mothers, and employing virtual theatricality to convey the strong themes of revenge and loss instantly added to the play's already dark and nigh on discomforting feel. "There are the shifting shadows, things you usually see when [you watch television]," Popovich says, that added a whole new dimension to the experience of the watching audience.
Just this February Popovich was awarded with the prestigious Mayor's Art Educator's Award, presented by the Dearborn Community Arts Council, for his work on Dinosoraus!, a production which ran last summer in the college's theatre. The work took advantage of a slightly different technology than The Skriker's motion capture, using keyframe-animated dinosaurs that allowed the audience to see the 3D twenty foot quadrupeds seemingly walking right in front of them. The product was captivating enough to break the theatre's attendance records, attracting hundreds of elementary and middle school children.
As Popovich gestures grandly to the equipment used, describing the minute details and immense amount of time it takes to set up a play using different technologies, I learn that the Dinosoraus! production alone took five years! Unsurprisingly, the several plays that have used the motion capture and VTL technology, including The Tempest, The Skriker, and Dinosaurus! have garnered plenty of attention for HFC's theatre department from national press. In fact, The Tempest was a regional winner in 2004 at The Kennedy Center's American College Theatre Festival, in competition with other reputable programs like Popovich's alma mater Ohio State University and the University of Michigan.
As for what's next, Popovich might have even bigger plans for the theatre. Drawing inspiration from an old science fiction play from the 20's called R.U.R, he is drawn to the piece because of the fact that it is known for having introduced the word "robot" to the English language, and to sci-fi. The play is a perfect candidate for added effects with its dark story of robots overthrowing the human race, and Popovich envisions a production where real time actors can control hologram-esque robot projections on stage. Popovich nonchalantly adds that everything in today's technology says it can't be done, but I find I'm not too worried about his team figuring something out. After all, they've done it before.
"Whether it's Hollywood, or here, or Broadway, or Dallas or Chicago or Kalamazoo, whatever comes out of [your work], comes out because it's your passion," Popovich says. And after spending a mere hour with Popovich, it is easy to get a glimpse into the person behind all the accolades, and see a man who is simply and irrepressibly passionate about theatre. And much like his own father was for him, he is the visionary that has played a key role in introducing dozens of students to the love of the stage and production.
"You carry the torch, that's what you do. You're trying to find somebody to inspire, and you want them to do something cool because you turned them on to it. That's all we're here for," Popovich reflects, "All the other stuff is irrelevant as hell."
Share it now!