Shepard Fairey Paints Mural In Downtown Detroit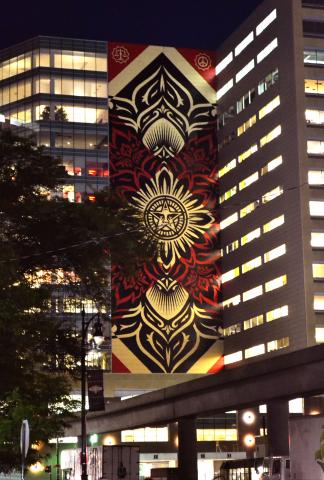 Shepard Fairey made his first notable appearance as an artist in 1989 in the skateboarding community when, while messing around with a friend, he created a sticker featuring wrestler Andre the Giant, who is perhaps most recognizable to younger generations from the film, The Princess Bride. The words upon the sticker, "Andre the Giant has a Posse" originally referred to him and his friends and quickly spread throughout the community.
In 2008, Fairey was hired by the Obama campaign to create the series of posters for which he is arguably most well-known. This series is called "Hope" and features President Obama worked over in uniquely combined patriotic colors.
Most recently, the Detroit firm Bedrock Real Estate, hired Fairey to do a mural 185 feet tall and 55 feet wide on the 18-story Quicken Loans building, located on Campus Martius. The piece's color scheme is comprised of red, black and beige, and looks like something out of Theater Bizarre.
While it has no intrinsic meaning behind it- there is no strong social, political, or any other statement behind its creation, it does have part of Fairey's signature face: Andre the Giant's eyes and nose, scrunched in the center star, for those who look hard enough. In the top corners are the scales of justice and a peace symbol, perhaps alluding to what we hope Detroit will continue to become a place of.
In addition to this, he created a second, smaller mural called "Pattern of Destruction" located in Beltway Alley. Accompanying these two permanent pieces, he has five panels on display until August 22 at "the Belt" which is located between the two Z Parking Garage structures spanning from the corner of Broadway and East Grand River to the corner of Liberty and Gratiot.
Share it now!