Reliving the Civil War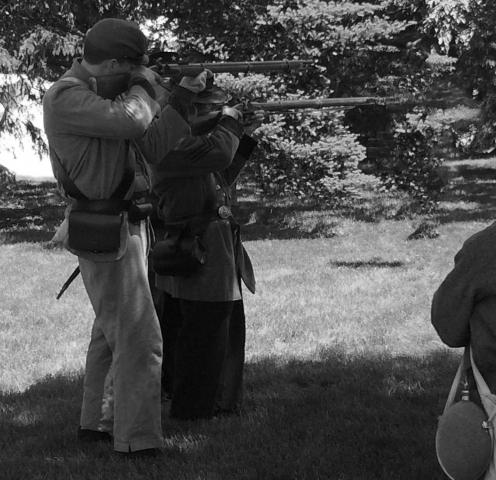 Every year during Memorial Day weekend, The Henry Ford commemorates those who have served and those who are currently serving by hosting a "Civil War Remembrance Weekend" at Greenfield Village. During this event, reenactors and the community were invited to come together in order to relive the end of the civil war and the effects the assassination of President Abraham Lincoln had on the country. At the time, soldiers were trying to make their way home, while the country mourned for their fallen leader. Reenactors, as well as some visitors, dressed in period clothing in order to immerse themselves into the history of the era. "It's living history, you get to actually not only just study what you read, but you get to live it…and then you can teach what you learned," said Andrew Assenmacher, a reenactor for the 21st Michigan Company. Tents were set up throughout the Greenfield Village Pavilion, offering presentations and historical information for guests to partake in.
One presentation, put on by 102 United States Colored Troops (USCT), showed the role African Americans had during the civil war. One reenactor, dressed as Fredrick Douglass, Johnny Bellamy, said, "Fredrick Douglass was born a slave, but he died a free man. He was an abolitionist and an important figure for African Americans during the Civil War times." The USCT educated the public on the African American struggle from slavery to abolition. They displayed genuine artifacts from the slavery times, such as whips, ankle irons and documentation from the slave trade. Their group also represented the roles of soldiers and women, providing period cooking, weapons and uniforms. "The color troops fought bravely and made a huge impact during the war," said Pamela Bellamy, who was portraying a cook, "It's quite a journey, and we are here to keep the history alive."
Another presentation, by the 4th Texas group, provided information on land surveying and topography. Surveying equipment was provided by the Michigan Society of Professional Surveyors Educational Foundation in order to explain how surveying was done. Member Lawrence O'Donnell demonstrated the uses of the equipment while allowing guests to experience history hands on. He also explained about how many of the maps of the US were created during the Civil War as the soldiers traveled from one location to another.
During the "Civil War Remembrance Weekend," there were many musical and educational special presentations, put on at various times around Greenfield Village. There were also crafts and activities for families to partake in. People had the opportunity to make ribbons or to enlist in the army. There was information about instruments, fashion, military and civilian camps, as well as information about how life was lived at the time. "I had the time of my life," says visitor Hanaa Salameh, "I can't wait to come back again next year to learn even more!"
Share it now!