President's Scholarship Winner Reflects on Award, Path to Graduation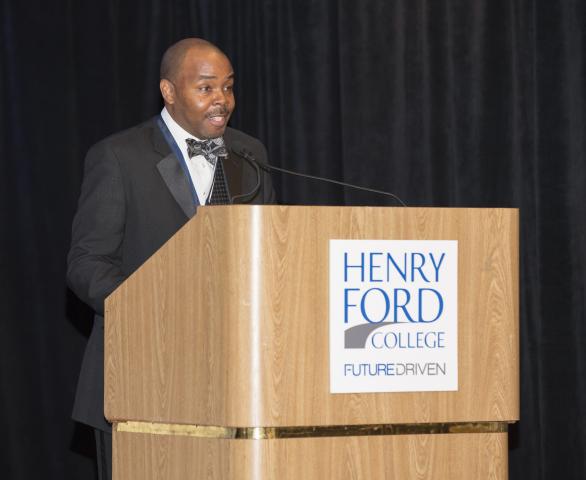 Photo published with permission
Rayford McKinstry is a recent Henry Ford College graduate and the first winner of the newly established President's Scholarship. Humble and kind, McKinstry shared that he had a plan in his mind as he accepted the award at the President's Gala on May 16th.
"27 years ago I started a journey to be the first in my family to achieve a college degree," he said during his speech. He expanded on that, explaining that his plan was accomplished with help and support from his community, family, and God. I was able to take sometime after the gala to speak with him about that plan and reflect on the road he took to get there.
The path to graduation took some time for Rayford. When he started in college all those years ago, his goal was to get a typical business job; the kind of thing where you can go in, work eight hours, and go home. Going to school while being employed, he struggled to pay for classes and support his family, but he never lost sight of his goal. Over time, he realized that he needed to have work come from his heart. His employment and college experiences reflect that.
McKinstry has a long history of community involvement, working with organizations like YMCA of Metropolitan Detroit and First Step Domestic Violence Center. To commit to causes that serve the community in this way, a certain selflessness is needed. He shows this in his work but speaks to it as well. While accepting his award, he let attendees know he had a duty to give back to his community.
He also attributes success to his family and faith. "My wife is phenomenal," he said. A husband and father of three, as well as a church Elder, Rayford was and is a very busy man. He balanced these commitments with school and work, but said whenever his family needed him, he would pull back and make sure they were taken care of.
As someone who has accomplished so much while coordinating the many facets of his life, I asked Rayford to share his thoughts about what helped spur him to keep on track.
"Take small steps," he said. His goal was to take two classes during the school year while he worked and to take one during the summer. He said he knew he had to keep up the momentum. He recounted the story of a fellow classmate who started with him at HFC in the winter of 2012. Over time, he would see the student, who wasn't sure he'd be able to continue his studies. McKinstry encouraged him to keep it up, to just to take one more class, then one more, and so on. In May, he was happy to see him at graduation.
Rayford said he was influenced by his goals but also by doing something he enjoyed: learning about health. He said it didn't feel like work, "When you major in something you enjoy, you can't get tired of it."
Of his scholarship win, McKinstry was elated. He applied with honesty, telling the story of his educational journey. This struck a chord with the committee, who called and informed him he was the winner. It is his first time winning a significant award. The scholarship will go towards his continued education at Sienna Heights University, where he starts in the fall. When asked what this means for him, he reflected on the responsibility of the honor, wanting to set a good example and do good with the award. McKinstry said he is fueled by opportunities. As a graduate of HFC and with his future at Siena Heights ahead of him, he's sure to have many of them coming his way.
Share it now!