Lights, Camera, Acting!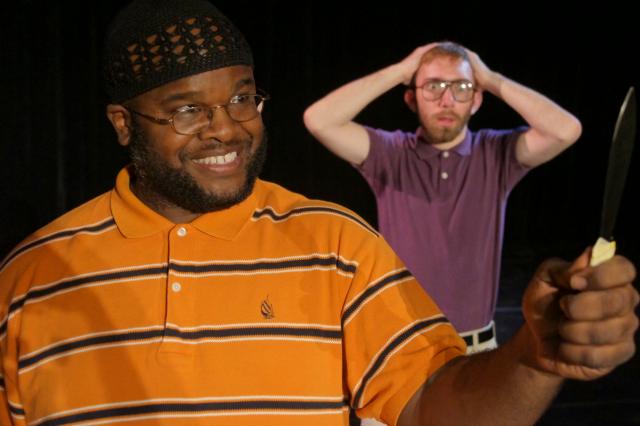 The One Act Festival at Henry Ford College is held almost every year by the theater department. This year it will commence between June 18 and June 28. A riveting collection of short plays, these performances are typically directed by students. This year, HFC goers Josh Nielson, Reba Neely, Christian Plonka and Anita Holsey-Banks governed the acts.
I sat down with theater and telecommunications graduate, Reba Neely, to ask about her directing experience. Neely directed the play Variations, and had this to say about it: "This is my first term directing here. It's been really fun and also a little scary. This has been a great learning experience because it really equips and prepares you for a real world theater career." This year the festival will be comprised of four plays, three dramas and one comedy. Sharing the stage with Neely's Variations are "The Problem," which is directed by Nielson, Christian Plonka's The Zoo Story and Anita Holsey-Banks will be directing 27 Wagons Full of Cotton.
"These four shows are very good, very deep. They touch on a lot of different topics," said Andrew St. John, one of the stars of the plays. "I think something to get out of this festival is a good piece of humanity, the darker side," he goes on to say, "I think the plays will definitely captivate the audience... You're going to experience something, no matter what, when you come here." His costar, Luna Nasser emphatically agrees, stating, "People are going to go through a variety of emotions when they come."
Auditions for the One Act Festival were a two week process with a variety of student hopefuls vying for the roles. "We had a great turn out, and choosing was hard," said Neely, "The people that I got are dedicated, put in the hours and are doing great."
In August, the theater department will be presenting the play A Raisin in the Sun. A four-time Tony Award nominated production, this play is one of the first of its kind and will be coming to HFC this summer. "It is a great landmark play in black theatre, one of the first explorations of the black situation and plight in America, by Lorraine Hansbury," said George Popovich, director of the theater department. "We are delighted that Christopher Bremmer, who is the executive director of the Jewish Ensemble Theatre, one of Detroit's major professional theaters, is directing this show for us."
For students interested in auditioning for an HFC production, auditions for the play BUG, written by Tracey Letts, will begin in the fall. The play production dates will begin next year between June 16 and June 26. BUG will be directed by HFC professor George Popovich. There will be a mandatory informational meeting on October 20th, in room F 12 between 1 and 4:30 pm. Students will be expected to attend as well as remain in the meeting until it has completed.
We can also look forward to A Christmas Story in the fall. For those who aren't familiar with it, it is the story of ten year old Ralphie Parker and his pursuit of the Red Ryder BB gun. "It is a family classic and a lot of fun," says Popovich, "We will be holding matinees for schools and we hope that everyone comes and shows up. We will also have a lot of big surprises coming in the winter and next spring and we really hope to see you there."
Share it now!