Dropping In With Nigel and the Dropout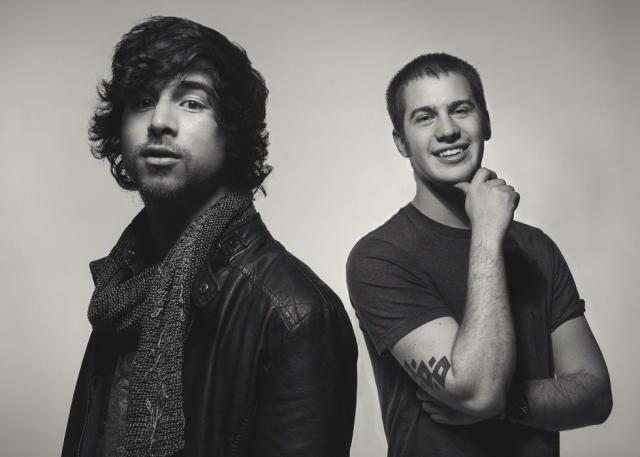 Photo published with permission
I first saw Nigel and the Dropout as an opener for another band at Detroit's "Magic Stick." Like most concert goers, I expected to be mildly amused whilst waiting for the main act – but when they started to set up their equipment I could see something was different. Finally. they plugged in their LED ampersand and turned down the lights, and I was blown away. Merging techno music, a spectacular light show, and a catchy dance beat, I was an instant fan.
Nigel (Hemmye) and the Dropout (Andrew Ficker) are a two-piece band from Detroit. They've only been together for five years but in that time they've released just as many albums. Their latest, Folderal, came out May 16th. Copies were given out for free at their launch party at Ferndale's "The Loving Touch."
It was already my intention to attend when I heard Nigel and the Dropout were being interviewed just two days before, at HFC's own WHFR Radio. So I introduced myself and asked if I could listen in – and they obliged.
The program was Motor Live Drive at Five, hosted by DJ Mark Hall. The following is a summary of that interview.
First off, the question of who does what came up. Andrew plays guitar and is the main vocalist. However, because of his "slight British accent" while singing, people have assumed it's Nigel (a "British-sounding name.") Nigel is engaged in the more technological aspects. His instruments are a synthesizer, drum machine and sampler (which records and plays back sounds). Though it may seem simple – "just pushing buttons," there is actually a lot of skill involved. Coordinating everything and keeping rhythm is a difficult task.
Though Nigel and the Dropout have only been around for five years, they actually came from a four member band. It was only after two members left for college that the band as we know it came to be. To make up for this loss they used loopers and sampler, and it's now become a staple of their sound.
"We're kind of nerds. We sort of replaced [the other members] with technology and wires," Nigel said.
As far as musical education, they were basically "homeschooled" (as DJ Hall put it). They read a lot of instruction booklets. And at this point, everything is done by them.
"It's all self-recorded, self-produced. We put a pretty big focus on recording quality. We recorded everything first, then we were like, oh yeah, we should play this live if we're going to do this seriously," Andrew said.
This was another major transition – moving from the studio to playing live. It happened after the recording of their second album, Slice of Infinity (∞).
In terms of writing and recording music, they've tried different things. At one point there was even talk of a concept album: all acoustic, "recorded in a tile bathroom."
Though, as Nigel put it, often it's as simple as "Hey, I made this loop, sounds kind of cool. Does this spark anything?" It takes varying amounts of time to make and release songs.
"We sit on it for a year maybe, and finally polish it and send it out," Nigel said.
This has its risks however. At one point Nigel's car was broken into and his laptop stolen. Hundreds of important files were lost, and it was a major setback.
Naming songs is an interesting process. One song from "Slice of Infinity" is called "Is the Bear There." They had this to say about it:
N: "A lot of our song names we came up with in one day. We have a lot of material, we're fed up with having it, we want to share it, and eventually we're just like 'we have to name it something.'"
D: "['Is The Bear There'] came from an inside joke, but a really, really old inside joke that's dead now."
They're doing a lot of concerts, so keep an eye out. Aside from the launch party, there was another in June at Ann Arbor's "Blind Pig," and one at Grand Rapids' "The Pyramid Scheme."
N: "The whole experience is intense live. It's very loud and there's a lot of lights."
And they did not disappoint. The launch party was even more dazzling than they described. There were psychedelic patterns projected on the wall, and colorful lights illuminated the stage. They also threw balloons and confetti into the audience and used a bubble machine.
You can listen to Nigel and the Dropout on their Facebook page (facebook.com/nigelandthedropout), Bandcamp (nigelthedropout.bandcamp.com) and Soundcloud (soundcloud.com/nigel-and-the-dropout).
Share it now!