College For Creative Studies' 90th Student Exhibition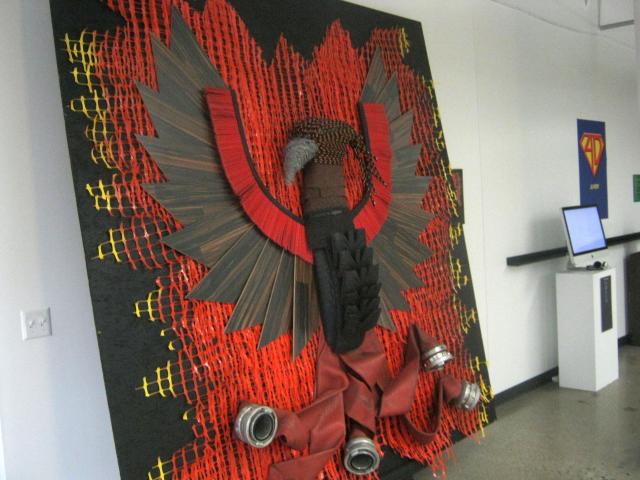 When I first walked into the Taubman Center at Detroit's College for Creative Studies, I didn't know what to expect. It was the last day of CCS's 90th Student Exhibition. The first thing I saw was a display of sculptures and various 2D works of art – photography, paintings and illustrations of all kinds. I was impressed at the skill and dedication put into each one, but it seemed a rather small exhibit. Then I realized – this is only the first floor.
The exhibit continued for five floors, divided by the type of art. On the first floor (where I started) were the works of Henry Ford Academy's School for Creative Studies (many of these high school projects were professional enough to hold their own next to the college ones).
On floor two was advertising, entertainment arts, graphic design and illustration. A lot of these works made a particular statement. For example, one ad for Forgotten Harvest (a charitable organization Henry Ford College has worked with) featured "paper" food, including blocks of cheese, vegetables and others made entirely of brown paper bags. The message was, "Your Trash, our feast." Forgotten harvest collects food that would otherwise have gone to waste.
Another sculpture demonstrated the increasing problem of deforestation by a stick of dynamite and a plunger made from forest materials: twigs, and wood – the message: deforestation is a ticking time bomb. On the same floor there was also a section for gaming. Student games were playable, on PC, Xbox and PlayStation.
On the next few floors there was photography, interior design and product design. This included a whole section on the automotive field, with many innovative models of cars. The last floor had fine arts, and this held a large variety of paintings, sculptures and film.
Overall, it was a very entertaining and inspiring exhibit. According to CCS's website, all proceeds for art sales went to student artists to "jumpstart their art and design careers."
Share it now!