Child Development Center Closes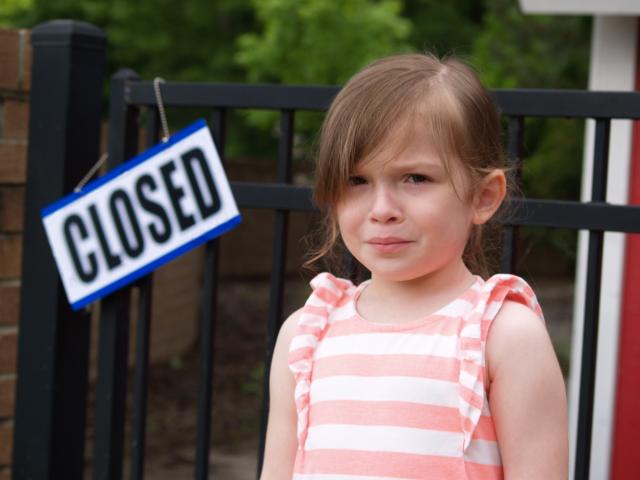 After two decades of service to Henry Ford students, the Child Development Center will be closing. June 30th will mark the end of an institution that has enabled many parents to return to school.
The Child Development Center, or CDC, is a pre-kindergarten program for children of students and staff. Early Childhood Supervisor Stephanie Stover admonishes my use of the name childcare for the facility, "This is not childcare, this is all day preschool," she states. There are a variety of classes available to the children that include math, science, phonics, art, and music. Children got a head start in their education while their parents could now return to school with a safe, close place to leave their children. "I couldn't have returned to school without it," says student and mother Alexis Tressler, "I met with a counselor when I first considered taking classes and every concern I had for my daughter was cared for. What are students going to do now? My daughter loves it there, she loves her classes, and her teachers, and the other kids. They've built a connection. And it wasn't a place I had to worry about leaving her. She will be very upset when it closes." I decided to ask her four year old daughter, Nixen (pictured above) a couple questions about the CDC, under the impression that she had already known of the closing. She told me her favorite class was math and that her favorite teacher was Ms. Mo. I then asked her what she thought about the center closing. She began to cry immediately and between sobs she asked her mother about what would happen to each of her favorite students and teachers at the CDC. It was heartbreaking to watch, but she was not the first, or last, to cry in front of me over this topic. There are strong emotions tied to this place.
Some are angry, some are sad. This decision, then, brings up a set of questions. Why close the CDC? Who made the decision? And what will parents do? If you are from the angry camp, the question you may want answered most is: What will they do with the building? The toilets and sinks sit just high enough for a three-foot-tall person and will have to be modified unless plans are being made to move in the Lollipop Guild. Also, play structures that surround the building will have to be removed. This question is pertinent because when we discover what this building will be used for, we will likewise get a clear picture of the HFC administration's hierarchy of importance. As of now, there are only rumors surrounding the future of the CDC building.
John Satkowski is Vice President of Financial & Auxiliary Services and was able to provide me with explanations. The Child Care Center was losing money and couldn't support itself any more. "It was a mutual decision between Henry Ford and Dearborn Public Schools to close the center…it was losing money," says Satkowski. Interestingly, the CDC is run by Dearborn Public Schools and not the college itself. More interesting than that, all the childcare programs for the Dearborn public schools are run out of the Henry Ford CDC building. This decision has caused major restructuring. Clearly, there must have been a loss incurred to motivate this decision. "(Five years ago) the nursing school moved off of the main Henry Ford Campus to a new location, and those nursing students took their children elsewhere due to the distance," says Satkowski. "A large percentage of nursing students have children," says Stover.
I was unable to find anyone who could recall exactly how long the CDC had been in service, but the closest estimate was between 1994 and 1996. And since it's opening in the mid-nineties the prices have not changed. While most daycares and pre-kindergarten programs charge by the day or the half day, the CDC charged hourly. With this information it is easy to see why parents would be upset now, since most local alternatives will likely not be able to compete with these prices. "We were never asked to change our prices, and we never asked to change them," Stover explains.
The committee that made the decision to close the CDC is a rather elusive one. I was unable to get a committee named, nor was I able to find anyone wanting to take credit for the move to close. President Stan Jensen explains his personal feelings, "I'd rather go to the dentist than be associated with closing the child care center." Understandably, no one seems proud of this decision. Some issues he asserts are low utilization and heightened regulations for childcare. Jensen assures that the administration is "still committed to our students, faculty, and staff." In regards to closing the building he states, "it wasn't serving as many students as intended." He attests that it was Dearborn Public Schools that ultimately ended the program, contradictory to what Vice President Satkowski states.
If anyone knew what the building would be used for beyond rumors, it would likely be President Jensen. I asked him. He had no definite answer but promised that the school will be looking at "how to serve our community better," and added, "I would be glad to let you know about it first-hand." Jensen was a single father while attending college and sympathizes with the plight of parents in school. Managing finances for a college requires, in his words, "tough choices that aren't always popular."
If you are a parent struck by this loss and have moved through the stages of grief into a place of acceptance, it may be time to start exploring options. Lindbergh and Snow elementary are a part of the same Dearborn schools system as the CDC and many of the staff at the Henry Ford campus will be working at either one of these schools. If leaving the teachers that spent time with your child is making the change difficult, this is a great potential solution. However, if you are limited in transportation, you will lose the benefit of closeness.
The geographically closest option sits just across Evergreen road and that is KinderCare. An open house was held May 27th and I got the opportunity to speak to staff. However, after several phone calls and e-mails, they were unwilling to release their comments. KinderCare is offering reduced rates for current students enrolled at the CDC. New students will have to pay regular rates which are more expensive than the CDC and provide less academic programs. KinderCare is structured as a day care, admitting children from six weeks old to thirteen years. KinderCare is definitely a close option for safe child-care, but one will miss out on the academic and developmental advantages that the CDC provided. KinderCare is close, but as one child development employee comments, "have you ever tried to cross Evergreen with a four year old?"
The importance of this service appears to be universally recognized, and the closing of child care centers on community college campuses has been a growing trend in the last five years. The Institute for Women's Policy Research states in a 2014 news release, "Campus child care has decreased most dramatically at community colleges—where nearly half (45 percent) of all students with children are enrolled…The proportion of community colleges with child care on campus declined from a high of 53 percent in 2003-2004, to 46 percent in 2013." President Jensen offers some advice. He suggests networking with other students in similar situations, to build a community on campus where students can help one another with childcare.
Going back to school with a family is not an easy task and accommodations for childcare, transportation, and work hours have typically been understood and cared for by the college. The closing of the Child Development Center is unfortunate and may complicate or even deter plans students have to get a degree. Nobody appears overjoyed by this decision to close the Child Development Center, and we can only hope that this isn't a harbinger for a shift of focus by the administration.
Photos by Marcus Olah
Share it now!