Making Movies With WDHS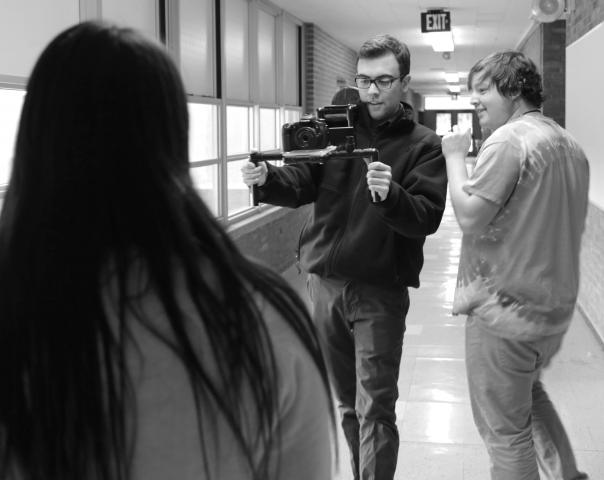 Did you know Dearborn is the home of the first high school video production facility in the U.S? At least that's the claim. Dearborn High's WDHS is a studio facility that allows students to produce videos and television programs – complete with a green screen, three-camera setup, Steadicams, and other state-of-the-art technology. Students engage in three different activities: news programs and morning announcements, short videos, and an annual feature length movie produced by the Video Production class.
According to instructor Kurt Doelle, WDHS has been around since 1981, and was started by Russ Gibb - a man who played an vital role in the Detroit Music scene in the 1960's. Gibb was the owner of the Detroit Grande Ballroom, and as a DJ, helped popularize the famous "Paul is dead rumor." Gibb was the Studio teacher until 1994 when Doelle took over. Originally the main focus was to create short videos that aired on cable TV (which Gibb also brought to Dearborn). Some videos even won Emmy awards. When Doelle took over things expanded in scale, and students began producing full-length movies (http://www.allmusic.com/artist/russ-gibb-mn0001601062/biography).
Fast-forward to 2015, WDHS is will soon be coming out with three movies. The first one, called "Spread Thin," is filmed in mockumentary style and follows the students of Forest Hills High School. Forest Hills is overrun by clubs, and their greatest honor is to be featured in a four page spread in the Yearbook.
One girl is given the choice of which club wins – and a frantic competition ensues.
The second movie is titled "Insanity": a horror film. A girl who suffers from mental illness joins some friends and her sister on Halloween night - and what happens next is truly insane.
Finally, the third movie is called "Floak." A mysterious energy drink is sent to students by a company representative. All the kids and even teachers get in on it. And if there are enough sales, the principal is awarded a boat. But there's more to Floak than meets the eye, and the drink's sudden popularity does not come without consequences.
All three movies – running from 30 to 40 minutes in length – are being shown on April 30th and May 1st at the Dearborn Performing Arts center in the Michael A. Guido Theater. To reserve tickets, please call the studio at (313)827-1635. Tickets will also be available at the Performing Arts box center.
So what's the future for WDHS? According to Doelle, it's uncertain. But this is the last year for such large scale movies. Next year the focus will be on smaller scope reality shows and/or Soap Operas - taking place exclusively at Dearborn High. So it appears things are coming full circle – going back to smaller productions. But though the future is unclear, WDHS is sure to continue in equipping students with great media experience , bolstering portfolios, and providing a great experience for high school students.
So if you'd like to support this great program – and be entertained in the process - go see this year's movies on April 30th and May 1st! (wdhsvideo.org).
Share it now!