Snow Days: Left Out In The Cold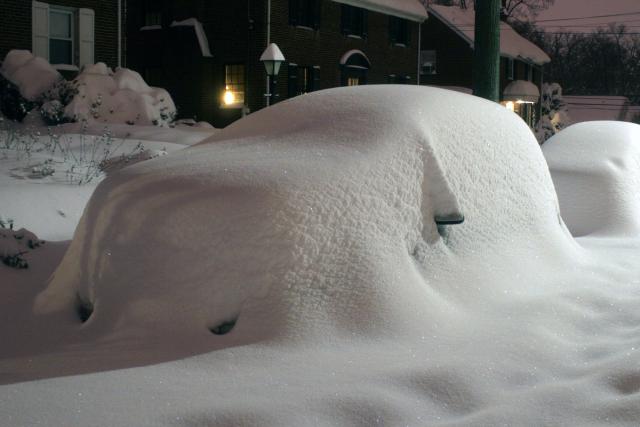 Here in Michigan, we are no strangers to snow in the winter. But the snowstorm that started in the late hours of February 1 resulted in roughly a foot of snow floating down on our homes and streets in one day. The inclement weather was surely a challenge to the organizations tasked with providing safe passage on our roads, as well as the schools and businesses who were required to make the critical decision to open or close their doors in the days that followed. Monday was universally regarded as a snow day. Practically all area schools closed and businesses did not open. Many people waited, eager for the plows that would clear the streets and enable them to leave their homes.
Henry Ford College was not immune to the circumstances of the storm and announced that they would be closed for the day. They announced this on the school website and through the various Emergency Alert systems students and faculty have access to. As the day went on, it became clear that not everything was plowed away and roads were still treacherous. Several area school districts decided it was best to have people stay home Tuesday as well.
Like many students, when I heard that so many area schools had elected to stay closed, I checked HFC's website to see if this would again be the case here. There was no note on the site, which left me to wonder if I was somehow missing where it would be posted. I had gotten no communication from the alert systems, either. While searching for the switchboard number, I found myself on HFC's Facebook page where there was a post explaining the campus would be open for classes on Tuesday. I found it helpful to have a definitive statement from the college as to if class would be taking place, though I did have to hunt for it a bit.
Many students in the comments section of the Facebook post sounded off with opinions and stories I heard commonly shared on campus on Tuesday. Concerns about getting to class for tests because their streets had yet to be plowed. Questions of how they could attend class when school and daycare services for their children had been suspended for the day due to the weather. That morning, a student reported being on campus for class and the student parking lot hadn't even been fully plowed yet. I would have reached out to these students so I could publish their comments and interview them further, but when I went back to Facebook to find the post with their names, the post had been deleted. Of course, HFC has total control over the content that is posted on their Facebook page, but deleting the post would leave one wondering if HFC's administration values these opinions and experiences.
I am sure there are more circumstances than I am aware of that go into deciding whether or not to close campus down for a situation like this. But I would argue that perhaps there was not a threshold of universal readiness met for our area on Tuesday that would have allowed for safe travel and attendance on campus. The school at the very least could make better efforts to communicate when it may be questionable if the campus is open or not, to better equip those students who need to make arrangements for child care or travel. I am not looking for the school to hand out days off. As stewards of the education of their student body, HFC has a duty to make reasonable accommodations and effective communication efforts for inclement weather days. Perhaps it's time for reflection on what that means for our campus in these cold, winter months.
Share it now!