HFC President Receives 2015 Business Leader of the Year Award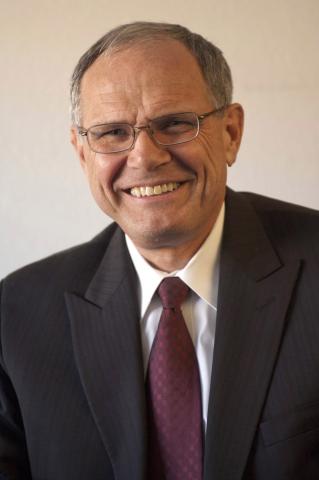 On March 13, the Dearborn Chamber of Commerce will bestow the 2015 Business Leader of the Year Award upon Dr. Stan Jensen, president of Henry Ford College.
Henry Ford College (HFC) President Dr. Stan Jensen will receive the 2015 Business Leader of the Year Award from the Dearborn Area Chamber of Commerce at the Chamber Choice Awards & Expo celebration. Jensen is one of several who will receive honors on Friday, March 13, from 11 a.m. to 2 p.m. at The Henry, located at 300 Town Center Drive in Dearborn.
Presented by Ford Land, the Chamber Choice Awards & Expo honors more than 90 businesses celebrating milestone anniversaries and showcases more than 40 Dearborn area businesses. The Business Leader of the Year Award is a prestigious recognition presented to a business leader in the Dearborn Area who has demonstrated outstanding achievement and qualities in leadership.
Jensen arrived at the College in May 2013 as the institution's fifth president. He came aboard during one of the College's most challenging financial crises. However, by working in partnership with faculty, staff and administration, he led HFC through this difficult financial period. Today, the College has a stronger budget and continues to increase its financial resources to ensure that it remains on the cutting edge of the higher education industry.
Jensen was also instrumental in leading the College through a name change last year, from Henry Ford Community College to Henry Ford College. The College and community celebrated this change in May 2014, which marked HFC's diamond anniversary. This change included an overhaul of the College's branding and image, as well as the addition of four-year degrees. As a result of his leadership, HFC was one of only three two-year colleges in Michigan to enjoy a positive enrollment increase for the fall.
"I am honored and humbled to receive such a prestigious honor from the Chamber," Jensen said. "The board, faculty, staff, students, administration and our community have accomplished a great deal in my short time here. I'm proud of what we have done and thankful for the talented, gifted people at the College who have helped make this happen. The Dearborn community has been so welcoming since I became the president of this fine educational institution nearly two years ago," he added.
For more information about the Dearborn Area Chamber of Commerce and the Chamber Choice Awards & Expo, please visit
www.DearbornAreaChamber.org or call 313-584-6100.
Share it now!