Good News and Bad News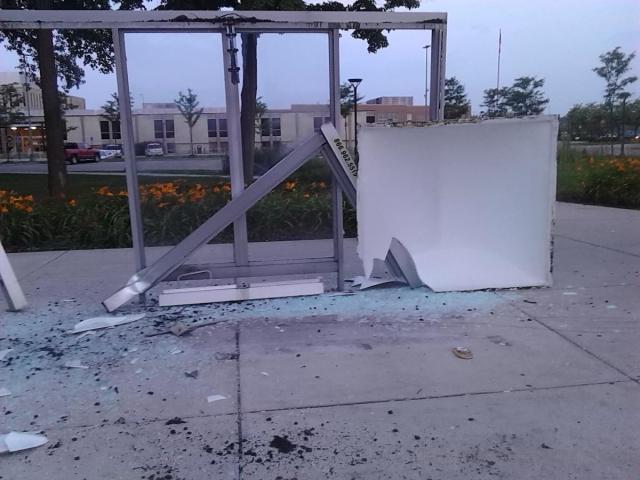 One of the two HFC Evergreen Road bus shelters was totally destroyed the morning of July 29-30, 2014. Campus Security believes an unidentified SUV or a truck struck the shelter at a high speed between the hours of 12 midnight and 5 am. There were no injuries reported.
Though the regional bus system, SMART, installed a new shelter by mid-September, the possibility still exists for a repeat incident involving a car or truck and the bus shelters.
Hundreds of HFC students, visitors, and employees use the D-Dot and SMART bus systems on a daily basis. At certain times of the day, 20 to 40 students and employees at one time can be found waiting to board a bus. They are usually sitting inside or standing around them.
The July bus shelter incident has pointed out serious safety issues not considered over the years.
The incident completely destroyed the bus shelter; luckily, there was no one occupying either of the shelters at that time, but if an automobile should hit one of them again circumstances may not be as fortunate. HFC could be dealing with a lost life or serious injuries. The accident that happened in July has put HFC on notice that a dangerous condition exists at the Evergreen bus shelters.
This dangerous condition begs for a solution that will better protect HFC students and members of the community. The likelihood of a serious incident calls for the installation of some type of safety barrier between the road and the shelters. To ignore this unsafe and serious condition is to assume responsibility for the damages resulting from such an accident.
There is still time to act before the winter season brings its icy roads and unsafe driving conditions. Perhaps our Student Council leaders may want to champion a solution for the cause.
Share it now!