Good Food...Good Prices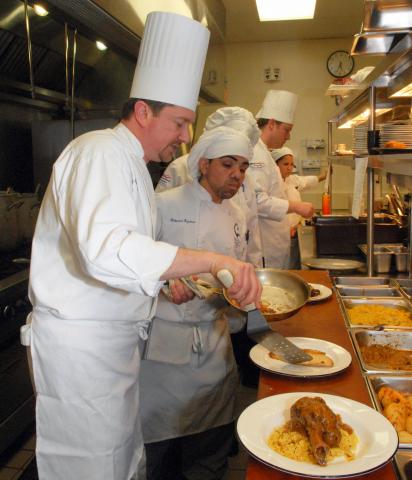 The 2014 Fall Semester at Henry Ford College Hospitality Department began with not only a new name, but with a continued commitment to the Culinary Department's "Food Truck" serving healthy, complete lunches. The "Food Truck" will be in operation every Tuesday, Wednesday, and Thursday, in the Student Center between the hours of 11 am and 2 pm with a rotating menu. Lunches can be eaten in the Pavilion, or purchased as a carry out.
In addition to the Food Truck, Henry Ford College students, staff members and guests can visit the "Fifty One O One" Restaurant also located in the Student Center for lunch every Tuesday, Wednesday and Thursday between the hours of 11 am and 1 pm and , or, for dinner every Wednesday and Thursday, between the hours of 6 pm and 7:45 pm.
Executive Chef and Academic Coordinator of Henry Ford College Culinary Department, Eric Gackenbach, describes the " Fifty On O One" as a student run restaurant offering "gourmet dining with affordable prices", serving house made breads, soups, salads, pasta, meat and fish entrees, and desserts, all prepared by Henry Ford College Culinary students with the supervision of Chef Instructors.
Share it now!