HFCC Presents Welcome Back Days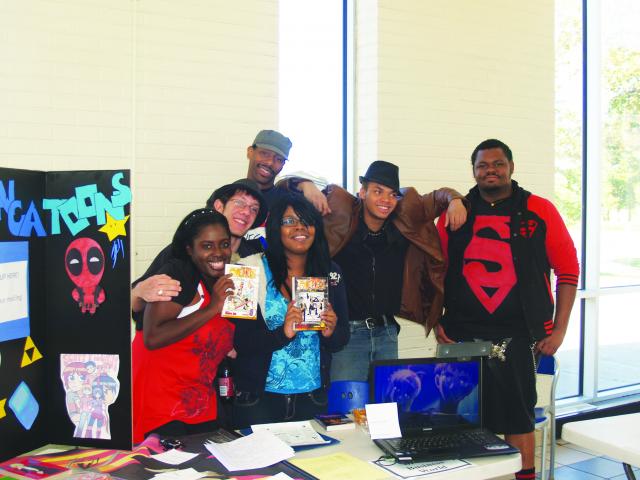 With classes finally in full swing, administration felt September 18 - 20 was the perfect week to host the semi-annual HFCC Welcome Back Days event. Taking place every fall and winter semester, Welcome Back Days is a three-day event that introduces new and returning students to student clubs and organizations at HFCC as well as the various student support services, including student counseling and the learning lab.
"It's designed to introduce new students and returning students to the many programs and services available at HFCC, and to get them involved in campus life," says Student Activities Officer Cassandra Fluker. "Before then, students are trying to acclimate themselves to classes and they're not really focused on student activities and they don't really know what's going on or what's available at the college. So once they settle into their classes, then Welcome Back Days takes place and then it gives them the opportunity to get involved."
As stated, Welcome Back Days is a three-day event with the first two days devoted to the student clubs and on-campus organizations. With over 30 organizations, students were surrounded with a plethora of wide-variety clubs to investigate, from the Astronomy and Baking clubs to Rotoract club and the WHFR radio.
In addition, treats were given away by nearly every group and a variety of fun activities (including face painting and a magician) were available for students to participate in, giving Welcome Back Days a lively, almost carnival-like vibe for students to enjoy. This enjoyment was not restricted solely to non-club members either: the club representatives found themselves basking in the glow of Welcome Back Days just as much.
"I liked being a part of Welcome Back Days because I was able to meet people I'd probably never run into on campus otherwise," said first-year student Angela Grahl.
Day three of the event saw the Student Activities Center filled with student support services (SMART bus system, learning lab, etc.) as well as representatives from 10 different universities, including Walsh College and neighboring University of Michigan-Dearborn.
"Henry Ford Community College has an amazing base of transfer students," stated U-of-M Admissions Counselor Rand Kazanji. "I think this program having universities and colleges come in and creating an almost college fair gives the transfer student the ability to ask the questions that they've been needing to ask and to have more of a seamless transition to that university."
In addition, a multitude of vendors, including Friends of the Rouge and the Ford Astronomy Club, were present at the event to offer off-campus services and opportunities within the Dearborn community.
"I always tell students that getting involved in student life is part of your college experience; it's more than just going to class and studying," said Ms. Fluker. "It's getting involved, gaining, applying, and improving leadership skills once they graduate. If students continue with their involvement, they're going to graduate as a well-rounded individual."
Welcome Back Days, at it's core is about more than just introducing students to student activities and university representatives; it's about introducing them to the entire college experience, broadening their horizons, and showing them they're surrounded by students who share their interests and values.
In that aspect, Welcome Back Days was a success if only a single student benefited from it.
"[Student clubs have] helped me grow accustomed to the college life. Knowing people when I come here makes it easier to come to school and have more fun," said first-year student Jessica Johnson.