Student Film to Debut this Month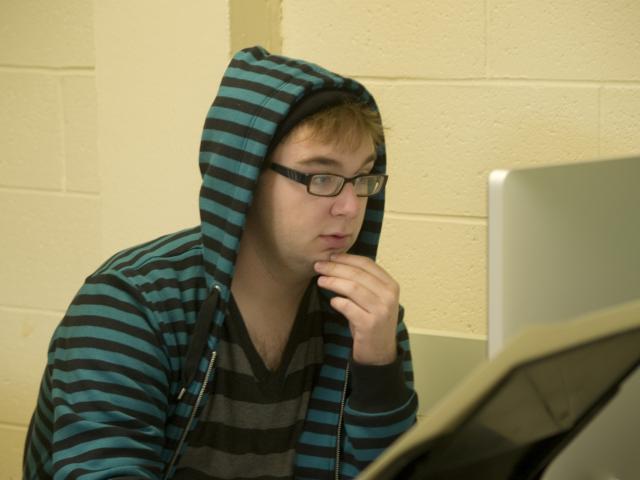 There's a pretty good lyric that says that the hardest things to see are on display. It's a fitting way to begin an article on something pretty extraordinary being taken on by an HFCC student; something that only a select few of our massive student body know about.
Until now, at least, because we're here to bring you up to speed.
Allen Dillard conceived, directed, and is currently in the final stages of editing a documentary on skateboarding called Aight Chill. Dillard, a 20-year-old pre-secondary education major at HFCC, has been a skateboarder for seven years, and has spent the last two gathering footage for his film. He was kind enough to answer a few questions about the documentary for the Mirror News, and to share some details about the film's production.
Mirror News: What made you decide to make skateboarding the focus of your documentary?
AD: I had made little skate videos when I was 15 with friends I went to school with, and there was a lot of footage from my backyard and the mile or so radius around mine or my friends' houses, so now that I know people who are actually good at skateboarding and are, or were, sponsored, I decided it would be fun to do a real one. This one is definitely miles beyond the others in terms of editing, filming, and especially skating.
MN: Is there any meaning behind the name?
AD: [It's] named after an inside joke between me and one of my friends. There was a song on an album he had bought named "Aight Chill," and it was literally a 3-minute song with voicemails played over music…. The only thing tying them together was that instead of saying normal things like "see ya later" or even "call me back," every one ended with "Aight, Chill."
MN: What was the process, from A to Z, of getting this done?
AD: Well, originally it was supposed to be a no-pressure type video with me and some friends. Then we all met and eventually became friends with other skateboarders, really good ones. I'm almost entirely sure that most of the people asked to be in it were originally supposed to have a few clips and nothing else, and now it's to the point where everyone has full sections of them skating.
MN: Were there any unexpected changes during the course of filming?
AD: Some people came and went during the production due to differences, but really it's been the same major elements all around.
MN: How long did the shooting last?
AD: The shooting lasted a little over two years, with the majority of the footage coming from this past spring, summer, and fall.
MN: Was it harder than you thought it would be to put it together?
AD: It was DEFINITELY harder to put together than I thought. I'm still in the final stages. Certain clips got lost because I've never labeled my tapes, so I've still got to go through about 15 or so and add a few
clips. It's really strange having to look through hours of footage for a trick that really only lasts maybe three seconds, and still try and keep everyone happy. Especially because different people like to skate different things and have different schedules. We've gone to certain spots probably 15 times for people to get clips. Add that to sleep, work, and school schedules.
MN: Of the footage that you shot, how much of it actually made it to the final cut?
AD: As I said, right now I'm looking at a shoebox full of tapes. There is about 75 or so in there. Add that up hourly. That's 75 hours of footage, give or take. The video itself should only be about an hour or forty-five minutes because, as long as skateboarding tricks can take to be landed, the one that is a make is only on screen for about 3 – 5 seconds.
Excluding the fact that the extent of my knowledge about skateboarding is confined to a Tony Hawk game (that led me to break my brother's controller), this is exciting. It's impressive, too, and just straight cool.
Aight Chill will be showing on Saturday, November 20, at Degenerate Skateboards at 18569 Allen Rd. in Melvindale. Eight o'clock sharp, got it? There will be limited copies of the film available at the premiere. If this sounds up your alley, get your popcorn (chocolate-covered pretzels, in my case) and make your way on over to Degenerate on the 20th.
Stay chill.
Share it now!