Spotlight On: Johnny May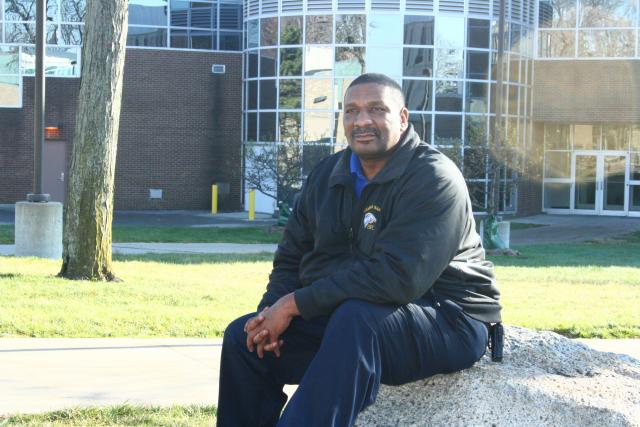 Johnny May is a man of many talents, and—if you are a Henry Ford Community College student—a man that you know, even if you don't know that you know him. For the past 16 years, May has not only served as a Campus Safety Specialist with HFCC's Office of Campus Safety, but also as an adjunct instructor with the Criminal Justice Department.
He is a campus staple, and even if you have not taken his course, you have undoubtedly seen him out and about on the school grounds. Then again, maybe you haven't noticed him. A reserved man, May has an unassuming air about him that would hint more at nights spent watching football with the boys than time spent establishing himself as a nationally-recognized authority on identity theft, making television appearances, and penning a book.
That's right, a book. He is the author of the award-winning book Johnny May's Guide to Preventing Identity Theft. He was also featured as an expert in the video production Identity Theft: How to Protect Your Credit, Your Money and Your Good Name.
So, yeah, he's got the security game down pat. Just don't call him a rent-a-cop. He is far from it, and he will let you know.
"Security is a totally different discipline than law enforcement," said May, "yet most people tend to use both terms interchangeably. As a security professional, you have to think in terms of being proactive, taking steps to prevent criminal activity before it actually occurs. Law enforcement on the other hand is reactive; they tend to focus on catching the bad guy after the fact."
He sounds like he knows what he's talking about because he does. A graduate of the University of Detroit-Mercy, May earned a B.S. in Criminal Justice, and then went the extra mile, earning an M.S. in Security Administration. He is also credited with developing some of the nation's first college-level courses geared toward educating people about protecting their identities, and teaches courses at Madonna University, in addition to those he teaches at HFCC.
But, wait, it gets fancier. Mr. May has appeared on the NBC Nightly News and numerous other television and radio talk shows. He has also been featured in publications, such as the New York Times, Entrepreneur, Money, Consumers Digest, Robb Report, and Black Enterprise. If you're expecting a diva, though, don't get your hopes up. While he is greatly dedicated to his work in helping people save themselves from identity theft, he still unabashedly loves his day job. He has no plans to abandon his post as a campus security specialist, and is happy to navigate both the glossier side of security consultant to mass media and the less glamorous task of making sure we aren't all strangling each other over parking spaces.
"Security is my passion. My main goal here at HFCC is to provide students, staff, and faculty with a safe, secure atmosphere that is conducive to higher education. Students cannot learn and instructors cannot be effective in the classroom when they fear for their safety or have to deal with disorderly or disruptive behavior," May said.
"I have a unique perspective. I have not only worked both day and afternoon shifts over the course of my career at HFCC, but I have also taught on the college and university level for the last 14 years, so I know the issues that instructors face in the classroom as well.
"This type of experience is invaluable," he said.
If you're interested in learning more about identity theft, you can register for CRJ 140 / Identity Theft: Prevention & Awareness, which May teaches every fall, winter, and spring terms at HFCC. As young adults are particularly vulnerable to identity theft, May stresses that "this course should be a requirement for all college students."
Can't wait? Read on for his tips on keeping yourself (and your credit score) out of harm's way this upcoming holiday season.
Share it now!