Relay for Life 2010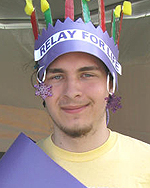 Relay for Life-Dearborn 2010 was a huge success. 45 teams helped raised over $110,000.00 for the American Cancer Society. Team HFCC was full of unity and spirit. 58 students, staff, and alumni joined together to help fight cancer. The beautiful grounds of the Ford Performing and Arts Center in Dearborn provided an excellent location for the event.
Relay for Life is a life-changing event that gives everyone in communities around the world a chance to celebrate the lives of people who have battled cancer, remember love ones lost, and fight back against the disease. Relay for Life is more than a fundraising event. It is an awareness campaign and an event to promote services that are provided by the American Cancer Society. Passionate volunteers stay awake for 24 hours symbolizing the fact that "cancer never sleeps."
Team HFCC participated in many fundraising activities resulting in donations of $2,600.00 to the American Cancer Society. Team involvement was more than raising money. Team HFCC held two cancer awareness days on the HFCC campus focusing on the dangers of smoking and the importance of cancer screening. Volunteers asked students and staff to fill out surveys about a campaign to make HFCC a smoke free campus. Results will be presented to the HFCC administration in the near future.
Relay for Life is a reunion of people who support the American Cancer Society. Each year, alumni visit the team site and share memories and take part in fun activities. Theodora (Teddi) Ragland, HFCC class of 2007, has participated for five years. Team co-captain Kelly Featherston, has participated in the event for most of her life. Both team members agree that it is an event they look forward to.
Every year brings changes and new activities. A new event called Project Relay took place. Each team received a trash bag of recyclables. Teams designed pageant wear and the contestants paraded across the stage and mingled with the crowd to collect donations. Team HFCC members were very creative and utilized the materials in accordance with the theme of celebrating more birthdays. Kory Palmer, a second year student, volunteered to represent the team. Kory was declared the winner of Project Relay and was cheered on by the crowd. His outfit was designed with styrofoam, remnants of a cardboard box, a plastic tablecloth and recycled flyers.
Another highlight of Relay for Life was an ice carving demonstration by Shannon Carey, a member of the HFCC Ice Carving Club. Shannon created a cancer ribbon made out of ice. Hundreds of visitors stopped to admire the carving. Luminaries were place around the carving in memory of family and friends who lost their battle with cancer. The team designed a special luminary in memory of Katie Viger, a former student at HFCC. The luminaries burned throughout the night.
The luminary ceremony is a favorite among team members. After dark, participants line the trail with luminary bags. Candles are lit inside the bags that are filled with sand. Each bag bears the name of a person who was affected by cancer. This year's ceremony included a bag piper who played Amazing Grace as participants walked a silent lap of remembrance and reflection.
Celebrate, remember, and fight back are themes that link Relay for Life events into one big fund event. As an example, team member, Delores Waters participated in the Fight Back Ceremony. She shared her experiences and a caregiver and her loss when her husband died of cancer. Other participants suggested ways to stay healthy including losing weight, using sunscreen, and not smoking.
Team HFCC has contributed over $20,000.00 to the American Cancer Society since 1999. The team thanks everyone for their support and encourages you to participate in upcoming events. For information about Relay for Life 2011, or to participate in other events, e-mail mfeather@hfcc.edu or call 313-845-9865.
Team HFCC /Community Service Club
Welcome Back Days, Cancer Awareness Table and Registration for the Making Strides Against Cancer Walk, Tuesday, September 15 and Wednesday, September 15, HFCC Student and Culinary Arts Center, 11:00 a.m.-2:00 p.m.
Making Strides Walk, Belle Isle, Saturday, October 9 and Gallup Park, Ann Arbor, Saturday, October 23