HFCC offers new certifications in 21st Century Technical Communications Program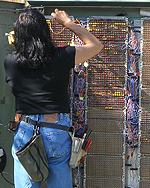 Beginning in the Fall semester, Henry Ford Community College will offer three brand new certificates as part of the 21st Century Technical Communications program.
On April 29th, AT&T got the ball rolling by donating $150,000 to HFCC for the program, which will be available for displaced workers and interested students.
AT&T then approached HFCC about developing curriculum for a certificate program that would train students in technical communications and properly prepare them for a career in the field. Once agreed, AT&T worked with a curriculum developer and other industry professionals to discuss and create courses that would teach students essential skills.
HFCC and the Michigan Alliance for High-Tech Skills Training later held a summit to further discuss the program. In attendance were several Alliance members, including AT&T, Capital Communications, Goodman Networks, Lineage Power, Quanta Services and Telecom Technicians.
The program was officially approved in a meeting on Aug. 2nd by HFCC's curriculum committee.
The 30-31 credit hour certificates require completion of five core courses, two of which are new: CNT 105 — Network Infrastructure-IP Telephony and CNT 107 — IT Essentials - PC Hardware/Software. Upon completion, students can focus on three separate concentrations: Infrastructure, Business or Technical. All three certifications are focused on the growing field of internet, cable and telephone installation repair. Customer relations and sales are also important, and both are part of the core courses.
Even in the early stages, the program has generated interest. "We've already received calls and e-mails inquiring about the program," said Elaine Saneske, Associate Dean of the Business and Economics Division at HFCC.
The program offers flexibility for those who are unemployed and training for employment, or those who are already employed and looking to change careers. The certifications can be completed by both part-time and full-time students.
Students that complete a 21st Century Technical Communications certificate can apply all credits toward an associate's degree at HFCC.
Although the program is sponsored by AT&T, the program is not meant for the company specifically and does not guarantee employment with the company or any company upon completion.
To learn more about the 21st Century Technical Communications Program, visit HFCC and AT&T partner for new program on the HFCC website at www.hfcc.edu.